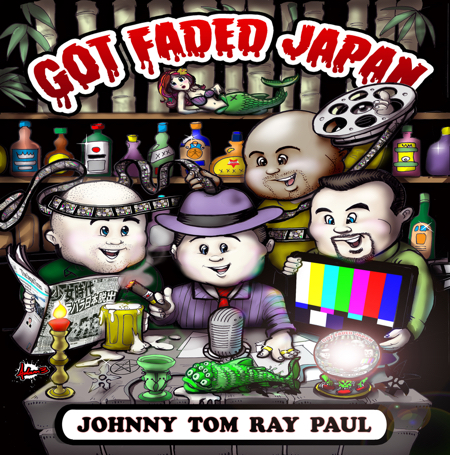 Got Faded Japan ep 546
Mad old school Fading with a mad old school Fader! Johnny Zooms in with Sorkin, Johnny's brotha from another motha!
In this week's bizarre and hilarious news, A cat burglar burglars cat, photographer pulls a John Candy, woman works for the worse bento shop ever and a whole lot more!
FADE ON!


If you are or were in a band or have a friend who is in a band, send us one of their tracks and we'll play it at the end of the show. UNDERGROUND BANDS ONLY. We all LOVE SLAYER but this isn't the place for them ( unless they're on the show :D ).
NOW YOU CAN DIRECTLY SUPPORT THE SHOW AND BECOME A PATREON!
Supporting GOT FADED JAPAN ON PATREON directly supports keeping this show going and fueled with booze (seriously could you imagine the show sober?? Neither can we)
SUPPORT GFJ at:
https://www.patreon.com/gotfadedjapan
CHECK OUT OUR SPONSORS AND SUPPORT THE SHOW!!!!
1.
THE SPILT INK: Get prints and art at:
ETSY
https://www.etsy.com/shop/TheSpiltInk?ref=hdr_shop_menu
SITE
2.
Ghost Town Pomade
FADE IN STYLE with Ghost Town Pomade.
Get yours today by contacting:
ghosttownpomade@gmail.com
3.
Gamuso:
ADDRESS:2-12-5 Takuei building 2F-3F Asagaya-Kita Suginami-ku Tokyo2min from JR Asagaya Sta NorthExit
4.
MITSUYA:
1 Chome- 13 -17 Asagayaminami, Suginami Tokyo 166-0004 
Tel & Fax: 0303314-6151Email: saketoyou0328@gmail.com
Harry's Sandwich Company
1 min walk from Takeshita Street in Harajuku
Call 050-5329-7203
Address: 〒150-0001 Tokyo, Shibuya City, Jingumae, 1 Chome−16−7 MSビル 3F
https://www.facebook.com/harryssandwichco/
GET YOURSELF SOME GOT FADED JAPAN MERCH TODAY!!!
We have T-Shirts, COFFEE Mugs, Stickers, even the GFJ official pants! BUY NOW AND SUPPORT THE SHOW:
http://www.redbubble.com/people/thespiltink/works/16870492-got-faded-japan-podcast
The Got Faded Japan Podcast gives listeners a glimpse of the most interesting side of Japan's news, culture, peoples, parties, and all around mischief and mayhem. Hosted by Johnny and Tom who adds opinions and otherwise drunken bullshit to the mix. We LOVE JAPAN AND SO DO YOU!
Send us an email on Facebook or hell man, just tell a friend & post a link to keep this pod rolllin' Fader! Kanpai mofos!